HISTORY AND FEATURES
I was born in Taranto Southern Italy, a coastal city in Puglia (Apulia) facing the Ionian bay, which flows into the Mediterranean Sea.
Founded by the Spartans as a Greek colony in the year 706 BC, the city arises about 48 feet above sea level and in modern times developed into one of the main naval NATO base as well as into expanded steel and iron foundries, oil refineries, naval shipyards and food-processing factories.
Aside from the historical beauties you can explore in the Old Town and surrounding villages, Taranto's character is made by its extension over three natural peninsulas and a man-made island, home of the stunning Aragon Castle (Castello Aragonese or Castel Sant'Angelo). 
The Castle is the main fortification in Taranto and was designed for defensive purposes in the late 15th century upon request of the Aragon King Ferdinand I of Naples. Later on used as a prison by the Habsburgs, today it houses an Italian Navy base and it's often opened to guided tours or used to stage exhibitions and events.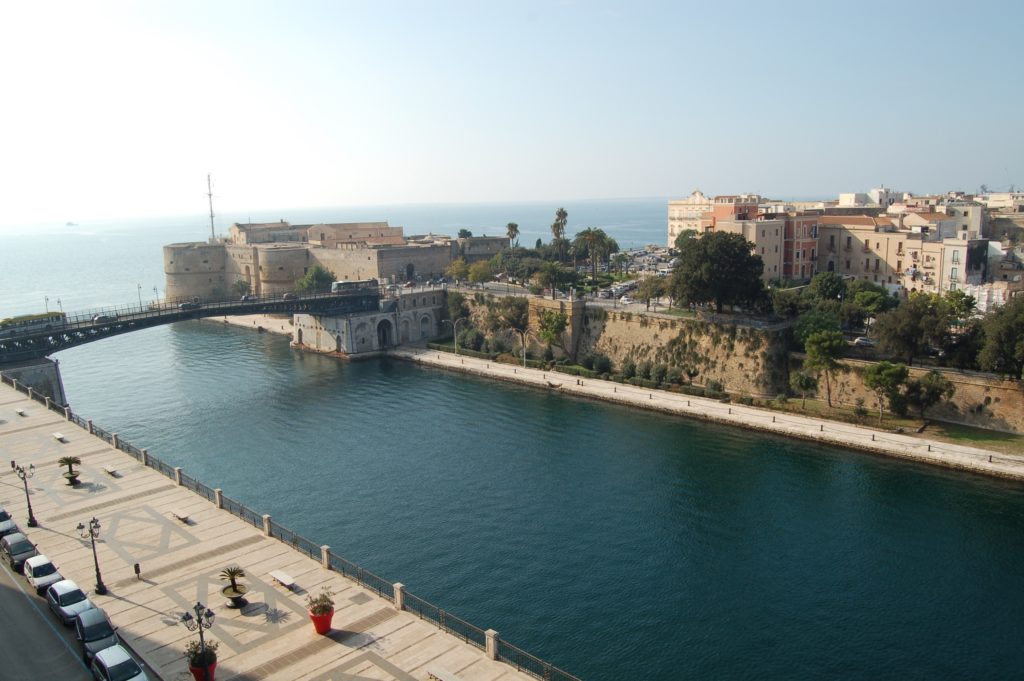 GEOGRAPHY AND LANDSCAPE
The geographical location of Taranto makes it really unique. Known as the "Queen of Two Seas", it is situated between what's named the Big Sea and the Little Sea which are connected to each other and to the Old and New Town by bridges. The two seas serve one the purpose of naval passage and the other fishing.
As you drive away from the city (about 10 minutes ride), you reach the countryside which is characterized by mostly arid desert like landscape alternating extensions of olive trees and prickly pear cactuses.
Prickly pear is a delicious fruit although very challenging to harvest due to the presence of several spines on the peel however, once you get to it and despite the seeds – not suitable for whom has texture issues – the vivid colorful fruit is juicy, sweet and packed with antioxidants and vitamin C.
I grew up with it and loved each and every bite! So I guess when I'm asked how I look 10 years younger, besides genes (THANK YOU MOM AND DAD!), extra virgin olive oil and definitely a Mediterranean diet, prickly pears must have played some role :).
MY CHILDHOOD
I have lived in Taranto only four years (from 0 to 4) but me and my sister would stay with my grandmother, uncle, aunt and cousins during school break every summer until our teenage, in a big villa on the countryside, not far from the coast, entirely designed and built by my uncle Federico. 
We all have a place that has impacted our childhood, positively. A place where our roots are anchored and where we feel safe and comforted. A place that makes you break down in happy nostalgic tears when you think of it and no matter how many times you visit, your soul will always belong to it. This is mine.
Every time I have been through a major life change or breakup, this is where I came to find myself again. With my cousins, uncles and aunts, my flavors, foods, smells, tastes of the south.
The villa is shaped as a castle and it's connected to a backyard that has 3 independent bedrooms and an independent kitchen and bathroom. A space for another family.
The tall fig and black cherry trees surrounding this area were my favorite to pick from, they could feed 2 families and my grandmother would make a fabulous black cherry jam that no matter how hard she tried to hide I would find the way to sneak into those jars with a big spoon … and get in trouble afterwards!
FOOD, FOOD AND MORE FOOD!
Grandma didn't have much money as a widow so for breakfast we wouldn't always have cookies with our milk, we would deep 2 days old bread in it so it won't go to waste. Lunches and dinners where fairly simple; the south side of the villa faces a wide open space with an extended vegetables garden, rabbits and chickens. 
Granny put us to work and we would harvest fresh cherry tomatoes, sweet chili peppers, green beans, lemons, pomegranates and snails! Yes, snails would come out in bunches after a rainy day, we would pick a bunch of it, put it in large bowls with water to flush out waste overnight, boil them with extra virgin olive oil and oregano and eat them with a toothpick! Countryside escargot :).
One of my favorite meal was pan fried sweet Mediterranean chili peppers. The skin is very thin so there's no need to peel it and easy to chew. Grandma would pan fry it whole with a handful of fresh cherry tomatoes, touch of salt and extra virgin olive oil; a dish called Friggitelli. I can still dream of that smell and flavor! 
Obviously we could not miss using the regional bread -a round loaf made with durum flour- as an additional tool not only to eat the Friggitelli but also to "clean" the plate! Italian traditional Scarpetta; additionally Grandma would lay out few assorted cheeses. Dinner is served! It's easy to please the palate and the belly when you have a handful of naturally flavorful ingredients.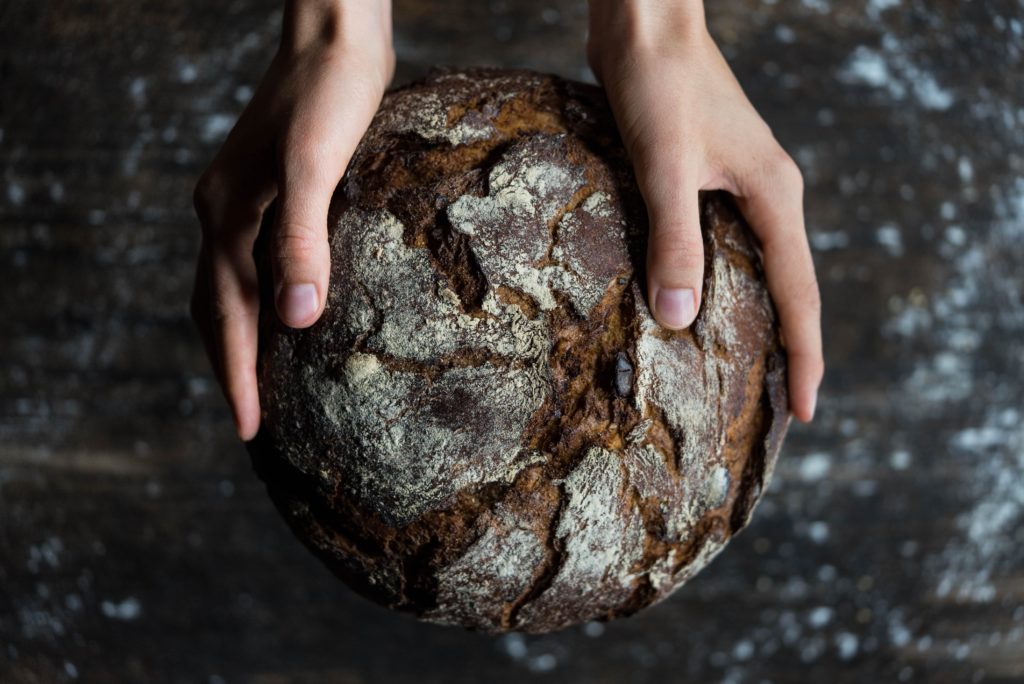 Taranto's traditional cuisine uses everything local the land and the sea can very generously offer.
Meats and fishes are cooked with minimal ingredients such as EVOO and various herbs. The idea is not to overwhelm something that is already extremely tasty on its own.
Once a week the fish vendor would stop by and sell fresh right out of the water deliciousness,  at our doorstep! The Ionian sea is rich. Among others, typical varieties on our tables were snapper, sea bream, mullet, calamari, octopus, squid, anchovies, and branzino (Mediterranean sea bass).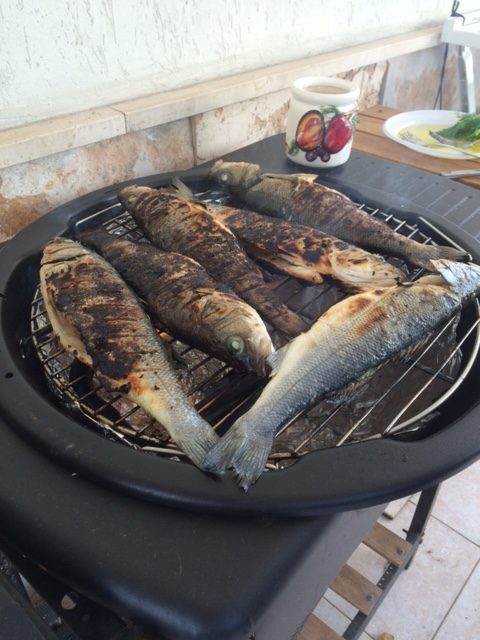 Taranto is also famous for its abundance of sweet mussels, which my uncle was in charge to provide. He would go visit his trusted fisherman friends and come back with large bags of it! We would sit on the wide porch, open a bunch and eat it raw. A squeeze of lemon and BAM! An explosion of sea in our mouths!
Summertime was crowded at the villa; a bunch of relatives would come visit and we would set up 2 very long dinner tables on the porch and enjoy a feast of food, laughs, talks, us kids running around, dramas and everything a passional Southern Italian family can deliver!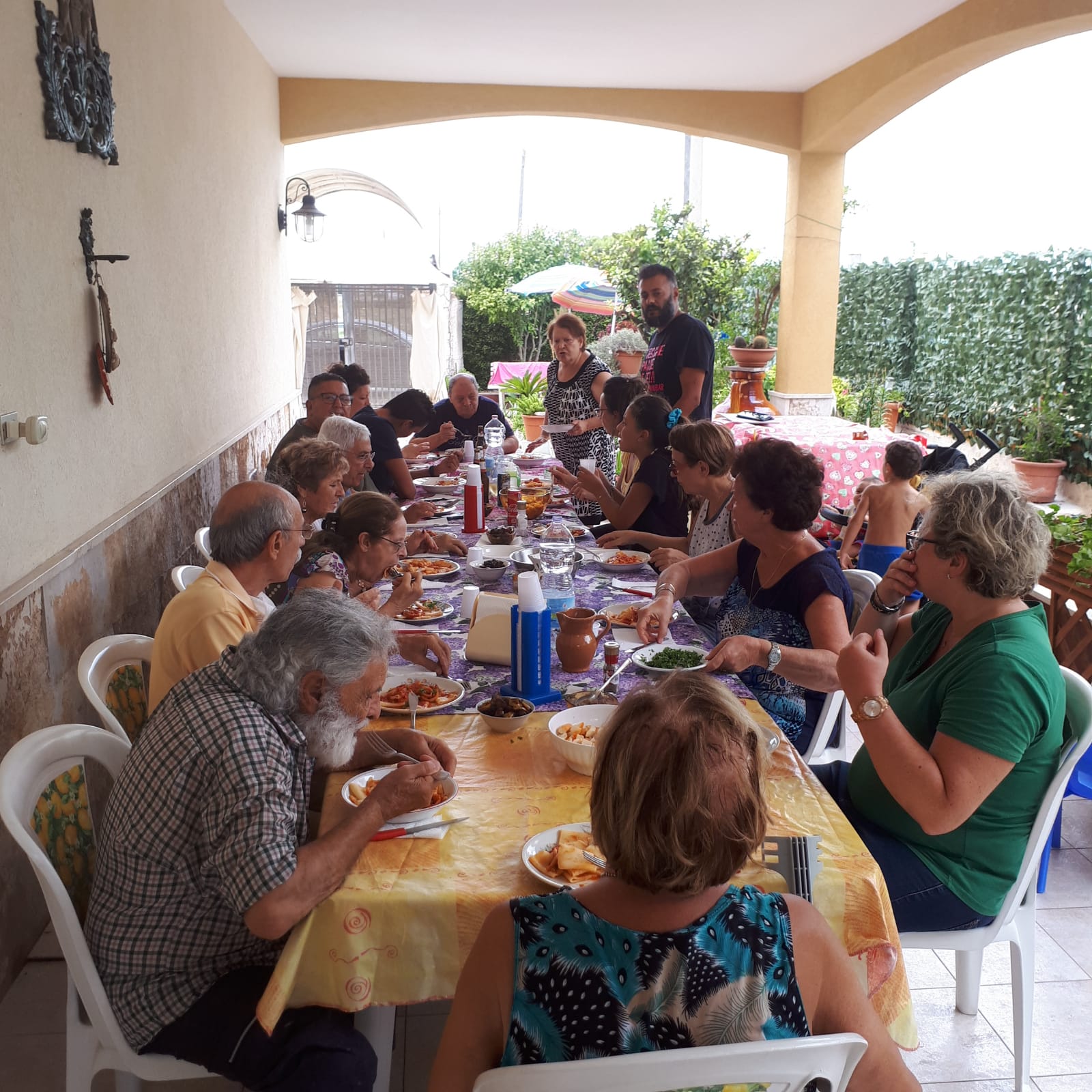 The miscellany of foods on those tables was, and still is, UNBELIEVABLE.  
To start, but also complement or follow the main courses, we'd lay out an assortment of homemade veggies, grilled or marinated in EVOO like eggplants, artichokes, mushrooms and peppers. Of course several types of olives would NEVER miss. The region has 50 to 60 MILLION century old olive trees! 
Among this display, the  UNCOMPARABLE, PARADISIAC, MOUTHWATERING….CHEESES! My favorite part. To name the most frequent and family favorite: mozzarella "nodini"; NR.1 in my preferred list; I DO NOT FULLY ENJOY MOZZARELLA ANYWHERE ELSE but here, in Southern Italy.
Nodini is a knot like shaped mozzarella. Supple but yet chewy, milky deliciousness. And then scamorza (spun paste cow's milk cheese typically pear shaped, semi soft with a texture comparable to that of a firm, dry mozzarella), smoked scamorza, animal shaped scamorza for the kids, provolone, burrata, caciocavallo; fresh and aged cheeses, made of cow, buffalo or sheep milk … YOU NAME IT! 
I guess you get the idea… You would think with all this to fill up on, there would not be room for anything else? YOU ARE WRONG. 
On to the main course! We would either have a pasta entrée' like baked ziti -long tube shaped pasta- with mozzarella and tomato sauce, orecchiette -little ear- with rapini, rice mussels and potatoes (baked in layers and one of the staple dish in Taranto) or a mixture of grilled and fried fresh fish.
RESTAURANTS EXPERIENCE
When going out to restaurants, I had 2 favorite places, a seafood and a meat one. The seafood spot is actually a full on fish market, right on the sea, with dine in setup. 
It is in the village of Torre Colimena, few kilometers driving outside Taranto along the Salento coast. 
The village is named after the Colimena Tower which was built by Spanish King Carlo V, who ruled the Kingdom of Naples –the region of Puglia was within this Kingdom- and wanted to defend the Puglia coast from Turkish invasion. The Tower (Torre) still guards the waterfront.
The dining setup at the market is very rustic, nothing fancy at all. We would choose our fresh right out of the water seafood and tell the staff how we wanted it cooked.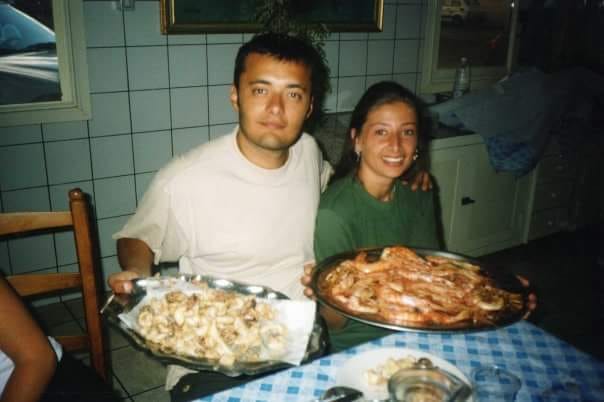 As for meat specialties, we would drive to a village named Laterza, more inland and with the same characteristics of the seafood one. You basically enter a butcher shop, choose your meat (rigorously grilled), then walk to the back of the shop where long communal tables are setup to dine.
From grass fed beef to lamb, pork and mutton, all the meat comes from naturally raised, hormones and antibiotic free livestock.
BEACH EXPERIENCE
And now on to the beaches! Taranto's beaches extension along the cost is over 100 km long. The sea color is crystalline and has nothing to envy to the Caribbean waters.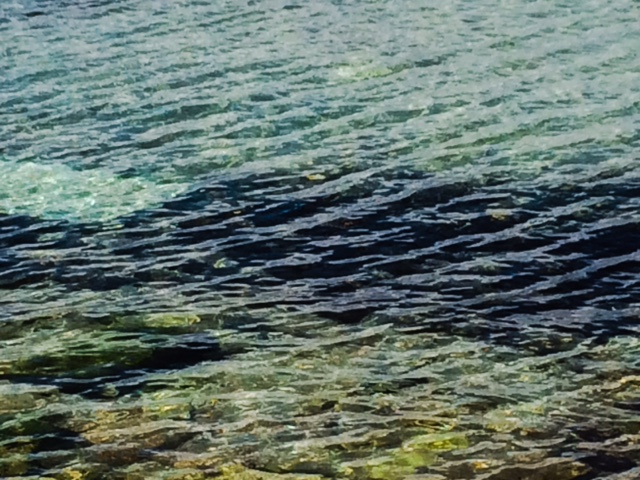 The beach landscapes alternate from rock beaches, where the waters are deeper, golden sandy beaches and marine pine groves. You may choose from free beaches and private ones. The privately managed have organized structures with restaurants, bars, private cabins to change outfit and safely store your personal belongings, umbrellas and chairs rentals. 
As a child, my parents would take us here, where it was possible to enjoy clean beaches and all the comforts that came with paying a reasonable fee while as a young adult me and my cousins would go to the free beaches (no fee to access it). They were a bit more rundown with uncollected trash laying around but we were not demanding :). 
My misadventure at the "rock beaches"
Since I can't swim, (long story…) I've found it a bit challenging to enjoy a bath in those very deep waters;  even more challenging is when you don't wear protective shoes to try to at least wet your feet, and while hanging on a slippery rock you step right on a sea urchin!
YEP, HAPPENED TO ME…IT DOES HURT! And it hurts until your cousin takes EVERY SINGLE SPINE OFF YOUR FOOT WITH A TWEEZER LOL! 
Back to the golden sandy beaches which I much more enjoyed :). 
The 6 of us would pile up in 2 cars around 9/10 am with umbrellas, chairs, towels and obviously water, fruit and "snacks". We would all leave from my uncle's villa and our trips were planned as an (almost) all day stay. 
First stop: the local bakery. We had to have Focaccia bread! Fluffy, oily, warm right out of the oven heavenly baked and topped with just cherry tomatoes. The simplest version of focaccia and the most satisfying. And obviously a few Panzerotti couldn't miss. Panzerotti are deep fried small calzone filled with tomato sauce and fresh mozzarella. 
Second stop: meats and cheeses deli. With all those carbs we had to have some fresh protein! So welcome mozzarella nodini! (knot shaped mozzarella previously described). We would buy two bags of it (approximately 7 per bag) and carry it sealed in their own water (to avoid drying up). 
I vividly remember the ecstasy of voraciously dipping my hand right in those bags and bite right into the nodini, just like that, with my bare hands! By the time we found parking and settle our things it was about lunch time. Between talks, laughter, baths and laying out like lizards and then baths again, and drying up again, we would return home after 5 pm.
And so here it is, I hope you enjoyed my kind of South!