When I go visit my family in Italy, I like to take "trips within the trip" anytime possible; in fact there is a considerable amount of cities/countries that you can visit within Europe, with  just 1 to 2 and a half hours low cost flight.
This makes it very convenient for whom experiences this side of the world for the first time and definitely very exciting for travel eagers like me, my sister and my nephew.
It was the second week of May 2017 and both my Nephew's birthday and Mother's day were approaching. My sister was planning a gift to her son who wished to take The Making of Harry Potter Tour at the Warner Bros Studios, just outside London.
As I wanted to chip in for the gift and I had never visited London, I figured I'd ride along for the trip!
In this blog I will tell you how we planned this experience along with our itinerary, hints, notions and feels gathered in the little (but fully rewarding) time we had available.
Receive $10 off of $75 with code BODY$75
GETTING TO LONDON: TRAVEL DAY
Among the number of domestic low cost airlines available, we chose Ryan Air, which is one of the biggest in Europe and, as far as for London goes, flies to Southend, Luton and Stansted; with Gatwick, Heathrow and City that makes it 6 civil airports in London.
Our destination was London-Stansted; departure time 4:30 pm while our return was 1:30 pm which meant having 2 travel days plus 2 FULL days to explore all the highlights we marked on our wish list.
The roundtrip flight cost for 2 adults + 1 young adult (discounted fare) + 2 checked bags was $241.11 (US dollars) with departure from Venice-Treviso International airport (TSF); 2 hours and 10 minutes travel time, direct. NOTE: if your dates are flexible you can make it with way less than $200 (for 3 people!).
The flight was ok, meaning that it definitely takes you where you need to be but Ryan Air does not provide ANYTHING complementary, not even water.
In fact when I asked for a glass of water I was told by the flight attendant that it wasn't available to them either and that they have to bring their own. HOWEVER, once you know this in advance and if you value the savings more than a glass of water, it's just fine.
TRANSPORTATION FROM THE AIRPORT
You have few options here, depending where your hotel is and what your budget allows: you can take the Stansted Express train (at the airport) which reaches Central London in 46 minutes, or a Taxi (pricy) or a coach bus.
We chose the latter, booking our tickets on line 5 days prior our departure, with National Express;  at that time the total cost for 2 adults and 1 child, ONE WAY, was £ 13. One hour ride to our destination, very comfortable and we got to admire the landscapes.
BUT BEFORE YOU LEAVE THE AIRPORT, STOP AT THE TFL (Transport For London) VISITOR CENTER TO BUY YOUR TRAVELCARD!
London is RIDICULUSLY well served when it comes to public transportation; you can ride overground trains, underground (British call this tube, while Americans call it subway), trams, buses and river buses; and you can do so economically, purchasing an OYSTER CARD and/or a TRAVELCARD mentioned above.
These are basically pre-paid cards you tap on each public transport you use, easily re-loadable at any station using your debit or credit card.
The difference between Oyster Card and Travelcard can be confusing when you first look into it; the key to the best choice is the length of your stay. Learn more here.
NOTE: we found more convenient the pay as you go Oyster Card for a visit that is less than a week.
You may also purchase the London Pass, which at a flat rate gives you access to several attractions plus a certain amount of Oyster Card credit.
Since we weren't sure we would actually visit the all the listed attractions and it seemed expensive for 2 days, we decided against. 
GETTING TO CAMBERWELL
London is divided in Boroughs (32 boroughs plus 1, London City, which is independent) and boroughs are divided in districts.
Our hotel was in the Camberwell district, within the Borough of Southwark, in south east London.
Our designated bus stop coming from the airport, was on Whitechapel Road (by the Royal London Hospital), conveniently 3 minutes walking distance from the Whitechapel Overground Station where we would catch a train to reach our final destination.
As we walk towards the station and look around to get a first feel of our surroundings, there it was, this egg shaped skyscraper: The Gherkin (30 St Mary Axe), impressively arising among centuries old buildings.
You'll see a lot of contrasts like this, contemporary and historic side by side, which I personally find it a bit of a punch in the face (aesthetically speaking) however somehow fascinating.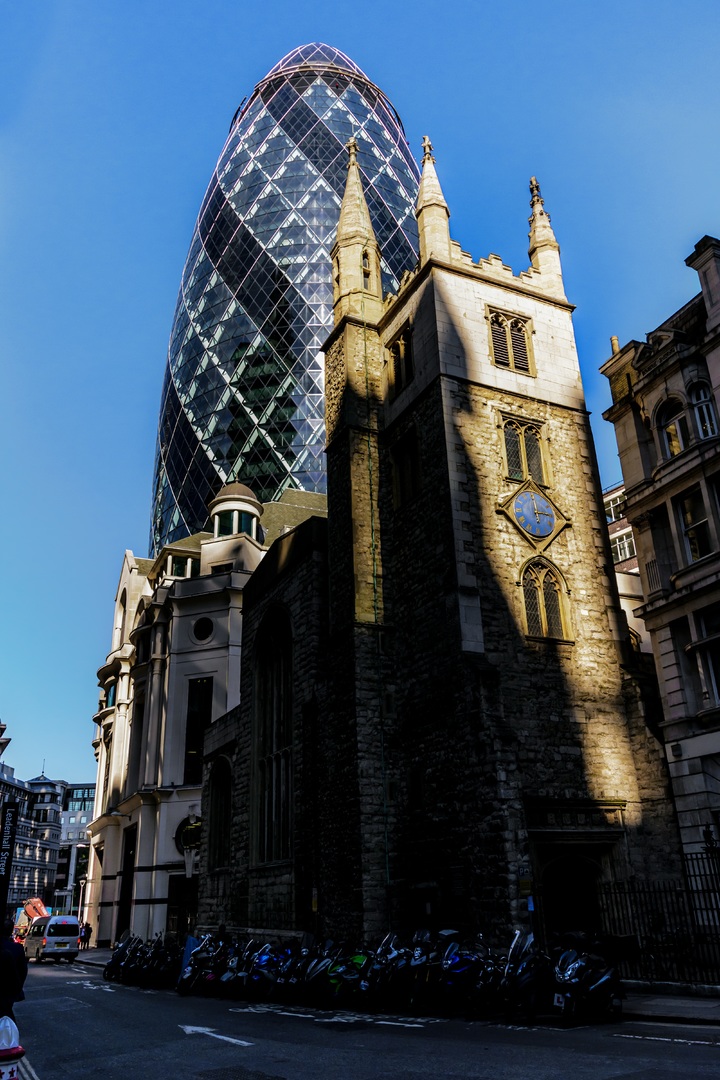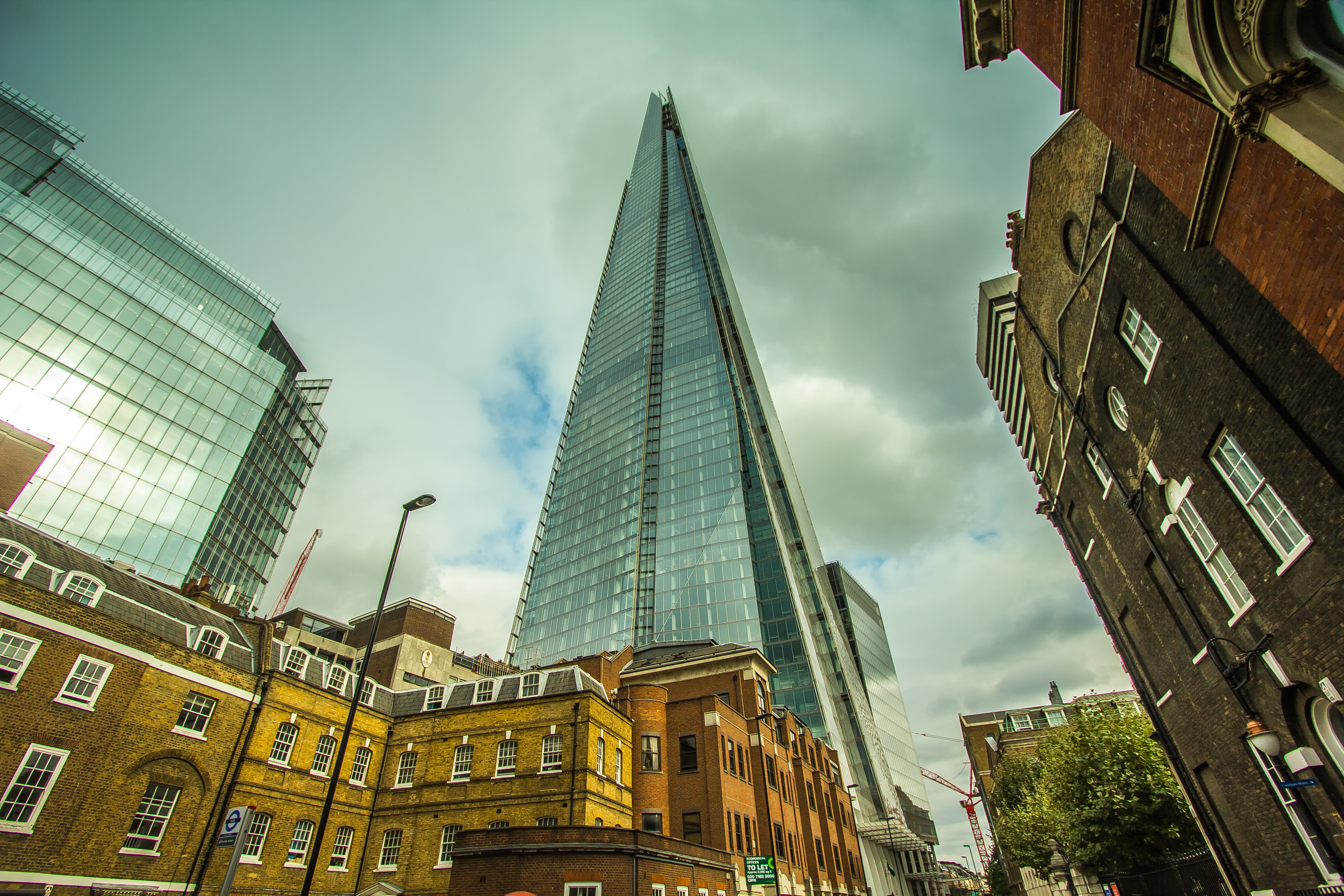 The Shard
At the Whitechapel Station we caught a train to Denmark Hill Station (46 minutes ride) then walked 12 minutes to the hotel.
SUGGESTION: I highly recommend you arrange a travel data plan for your smartphone so you can use your GPS!
It really saved us an enormous amount of time and effort, guiding us not only with walking directions but also (and more importantly) with public transport schedules and locations.
London is VERY BUSY GUYS! Picture a Manhattan or Los Angeles traffic, but in a European style city; meaning that London is NOT LAYED OUT IN SQUARE OR RECTANGULAR GRID like the two American cities mentioned above, so it can be difficult to find your way around.
As we approached our last few minutes walk to the hotel we passed a series of very quiet streets (almost no cars passing by) surrounded by geometrical and unadorned brick houses with a kind of "conservative" look so I could not tell if it was private houses or some sort of schools.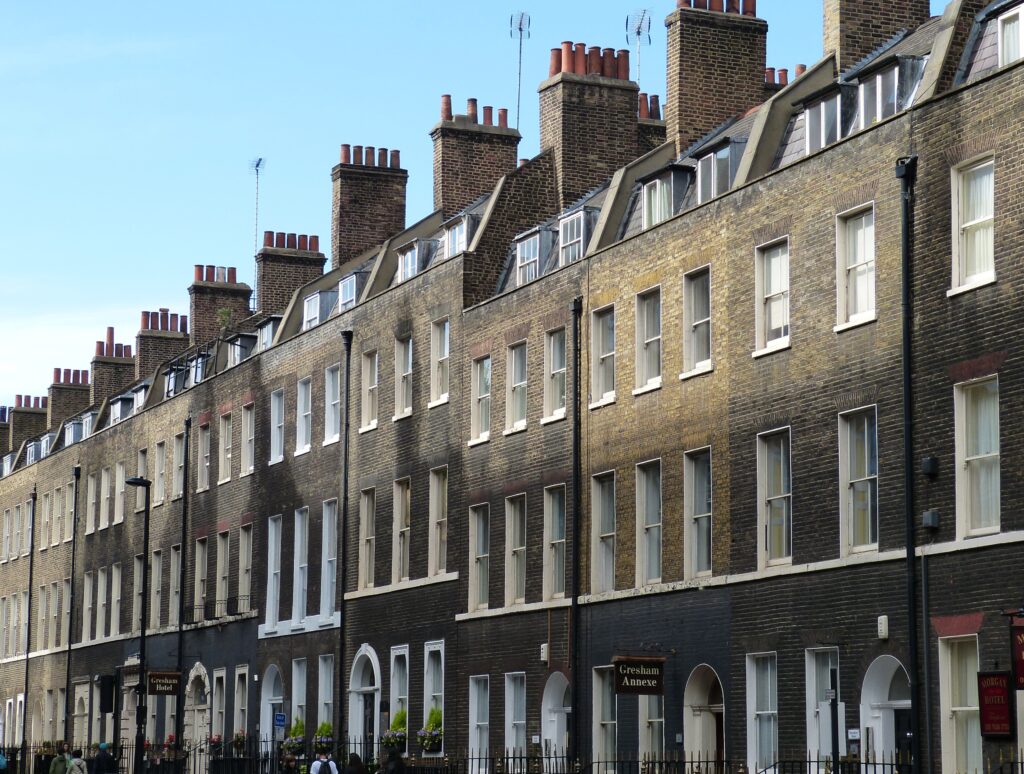 OUR HOTEL
Despite few bad reviews, we decided to book a triple room at The New Dome Hotel on Camberwell Church Street, for the total cost of £ 270 (circa $ 345) for three nights, breakfast included.
The room was not very spacious and not SUPER clean (a bit of dust on the desk and carpet) but the beds and bathroom were spotless, very friendly staff and satisfactory breakfast.
After all we only needed a clean bed to crush, a clean bathroom to shower and a substantial breakfast before approaching our tour de force – meaning being all over the places all day long –.
Camberwell Church Street is very lively; there are several restaurants with different Cuisines from Italian to Turkish to Chinese and more, along with cafés and pubs filled with young crowds, due to the vicinity of the Institute of Art and other schools.
Bus stops and a medium sized park are within few minutes walk and the surrounding architecture varies from Georgian Neoclassical to colorful strong Dutch Baroque accents.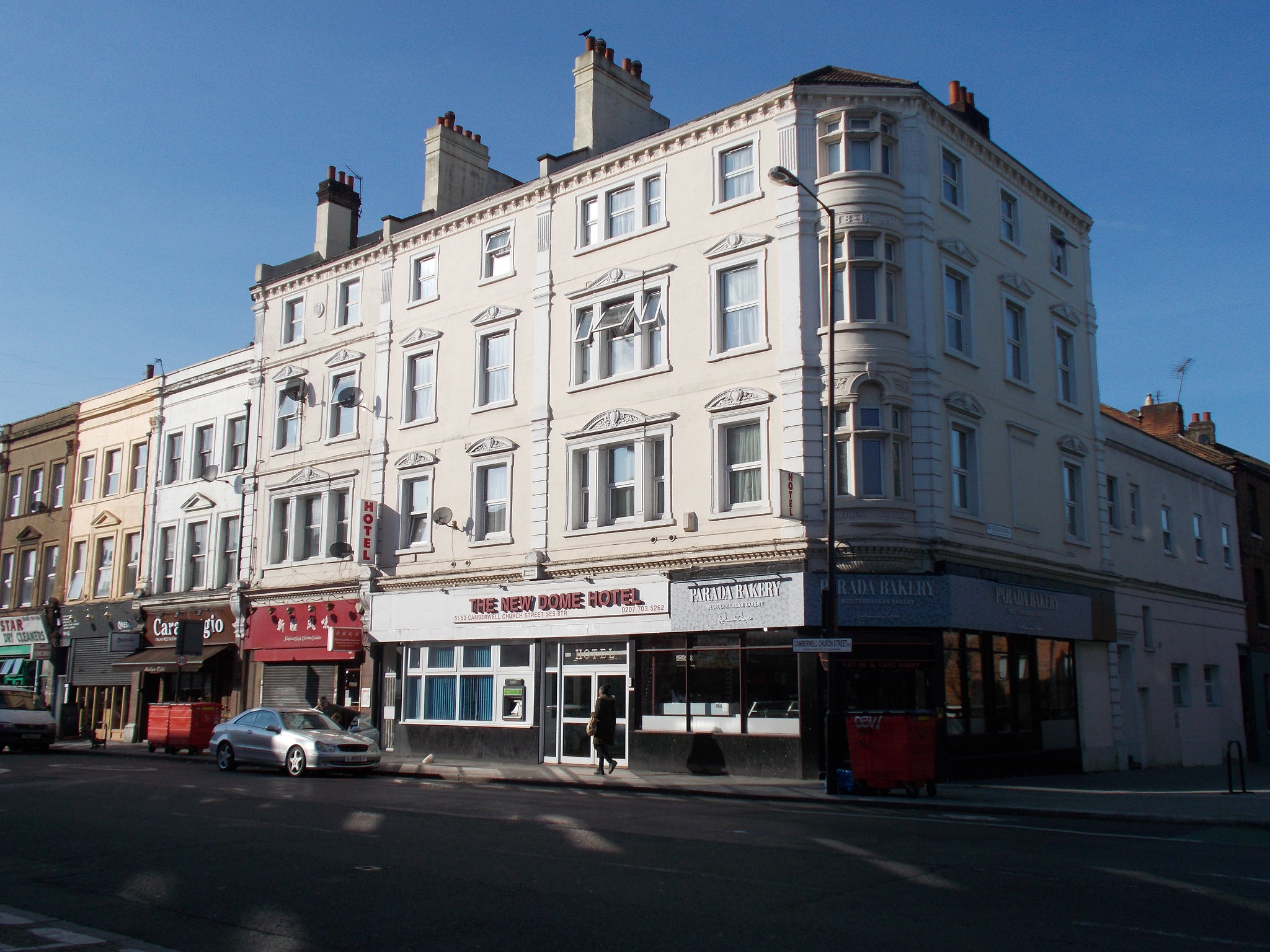 THE NEW DOME HOTEL Photo by shrinkin'violet for Flickr
After checking in and starving at that point, we went on our FIRST ADVENTURE: look for a place to eat!
Well it wasn't that big of an adventure because we literally walked in a Chinese Restaurant called Silk Road, right next door to our hotel ha!
I've realized only afterwards, how greatly reviewed this place is and that it is considered one of the best in London for its authentic Xinjiang Cousine , as also confirmed by its guests. Learn more about Silk Road here.
The restaurant was packed, with Asians too, which is a good sign in my opinion. CASH ONLY and SURPRISINGLY INEXPENSIVE, we had delicious courses and very much enjoyed our first impact with the locals: sociable, interactive (NO LOOKING AT PHONES OR TV!), loud and happy people.
PEOPLE BEHAVIOUR AND VIBE are absolutely joyful and cordial.
I knew about the Anglo-Saxon culture being extremely polite so quite frankly I expected it to be distant and a bit cold but I was gladly wrong! BESIDES, there is a great deal of diversity in London (Indians and Italians among the ones we more often encountered).
The European value of social life really stood out here, throughout our entire stay. Every bar, pub or restaurant we walked by was full of people, in and outside, mingling, laughing and drinking (oh, yeah… they seemingly drink a lot!).
DAY ONE: SOME CITY HIGHLIGHTS AND THE MAKING OF HARRY POTTER TOUR
The Warner Bros Studios are located 20 miles North West of London, which is totally opposite to where we stayed, South East; however it didn't discourage us, on the contrary! We visited plenty of staples on our way there.
We left the hotel at 8 am sharp and got an Uber to reach the LONDON EYE, thinking we would save time to see more things…WRONG! Stuck in traffic…. PUBLIC TRANSPORTATION IS DEFINITELY THE WAY TO GO.
Anyways, as we walk towards the iconic Ferris Wheel, we started breathing in some real London features, WEATHER being the first; it was a cloudy day and just like in the movies, we were constantly opening the umbrella up, closing it down…sun comes up, jacket off, clouds covers the sun, jackets on again and umbrellas open LOL!   
We didn't ride the WHEEL and opted for a very lovely walk on the Westminster Bridge (over the River Thames), during which we were captured by the spectacular view of two of the most astonishing gothic masterpieces in European History: the WESTMINSTER PALACE and the Clock Tower (renamed Elizabeth Tower in 2012), commonly known as the BIG BEN.
I've seen the Big Ben pictured pretty much anywhere from gadgets to movies to ads so I was kind of "giving it for granted", but as I got close to it and even heard the bell, I felt a little emotional…as if London's heart just emitted its beat.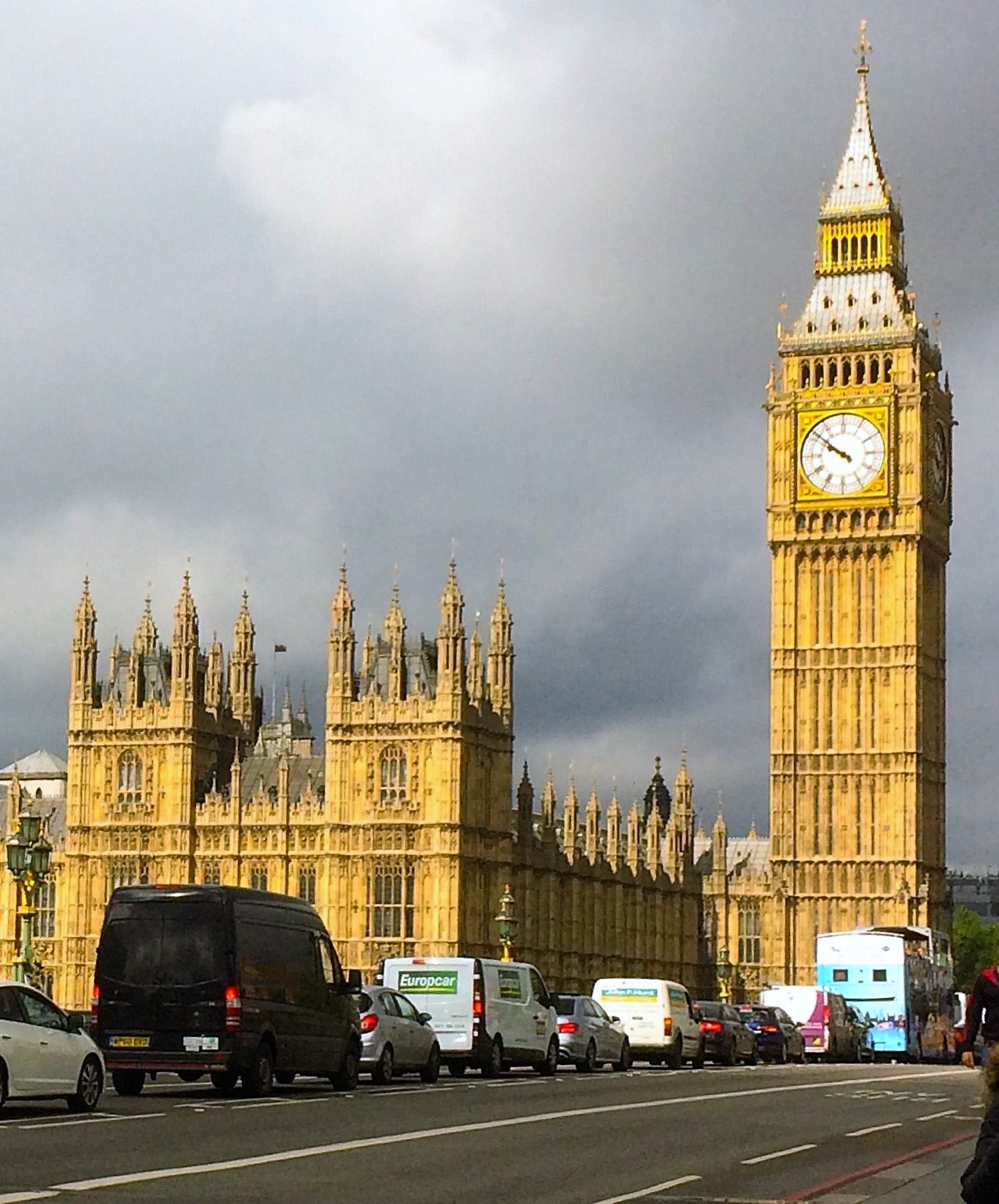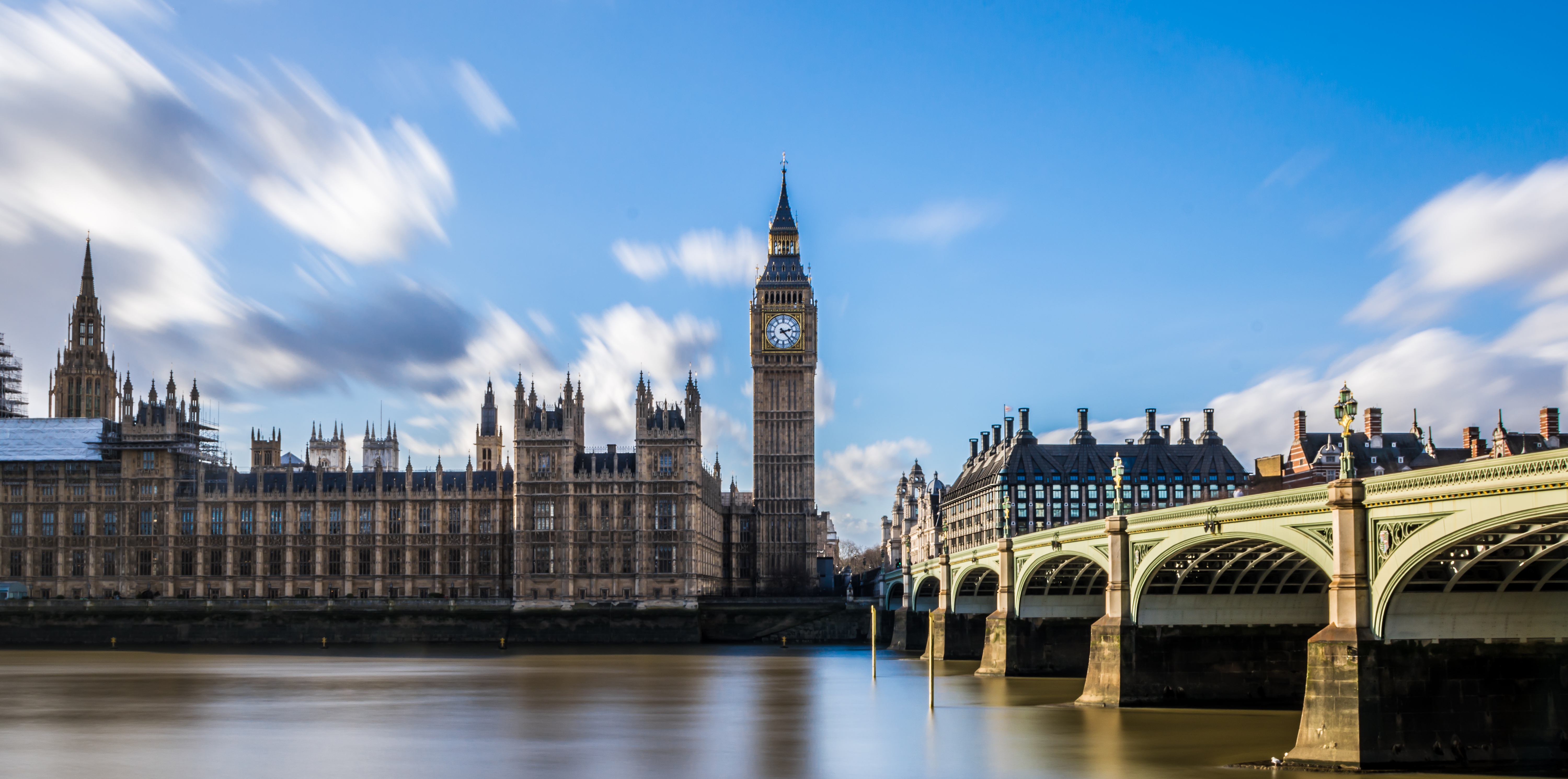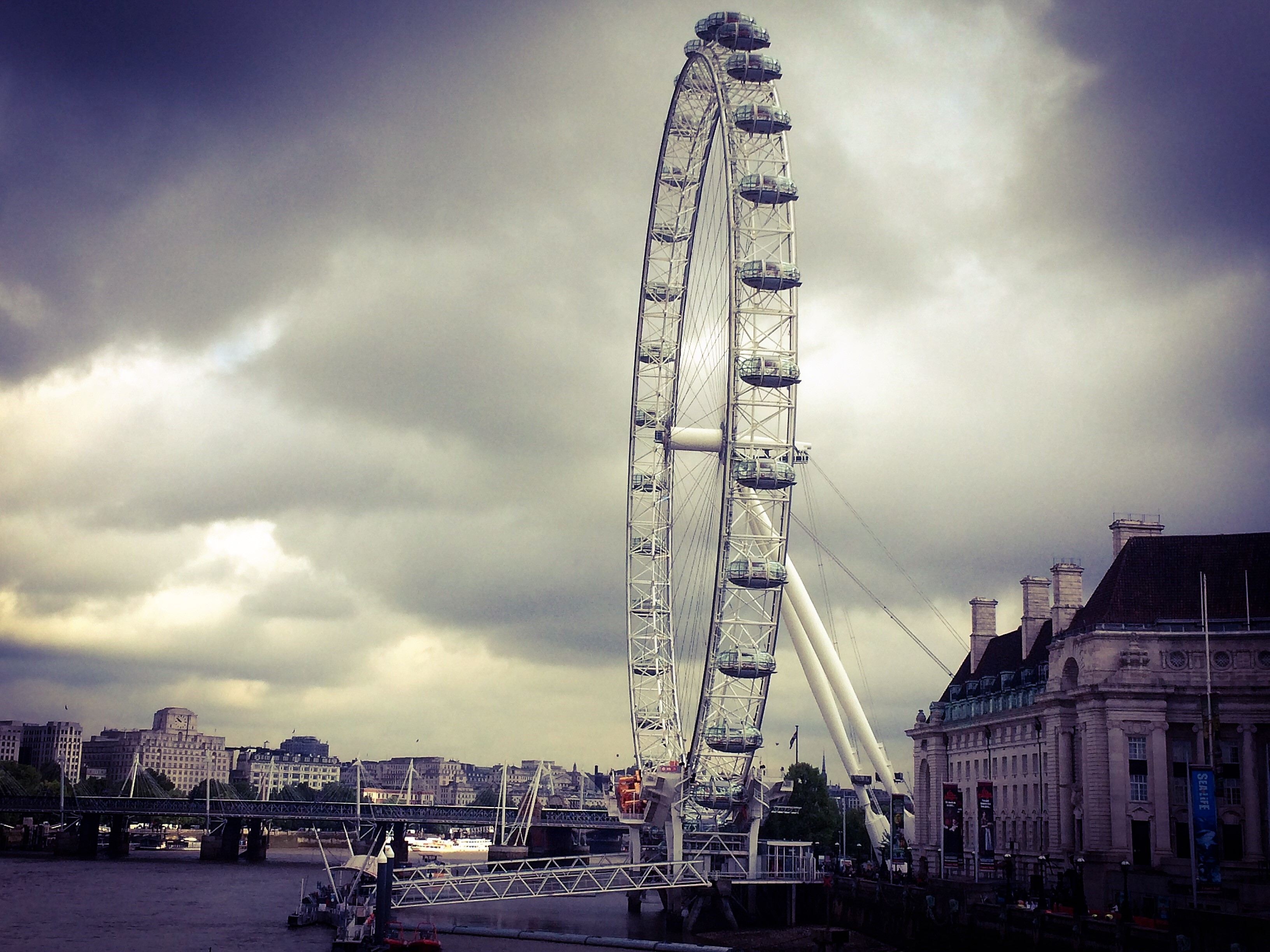 Proceeding on to BUCKINGHAM PALACE, we stopped at ST JAMES PARK. This is the oldest of the Royal parks and spreads over about 57 acres including a lake and a cottage.
As we entered the park we were surprised by quite a few squirrels running towards us; we couldn't believe they wouldn't run away from humans as it commonly happens in other cities and we thought "HEY! EVEN THE SQUIRRELS ARE SOCIAL" ?
I realized afterwards, during a visit in NYC, that in all reality they are simply used to tourists feeding them, which ultimately is the reason why they run by you ha! What can I do, I'm hopelessly romantic….
Walking around the park infuses you with a serenity that keeps you away from the city noises and hyper activity.
From the gorgeous flower beds to the ducks, beautiful swans and even pelicans, there is a lot to admire here; you even get glimpses of the London Eye and Buckingham Palace through some of the ancient trees. 
But there's more landmarks to St. James park worth to explore, which requires more time than what we had.  Check it out here!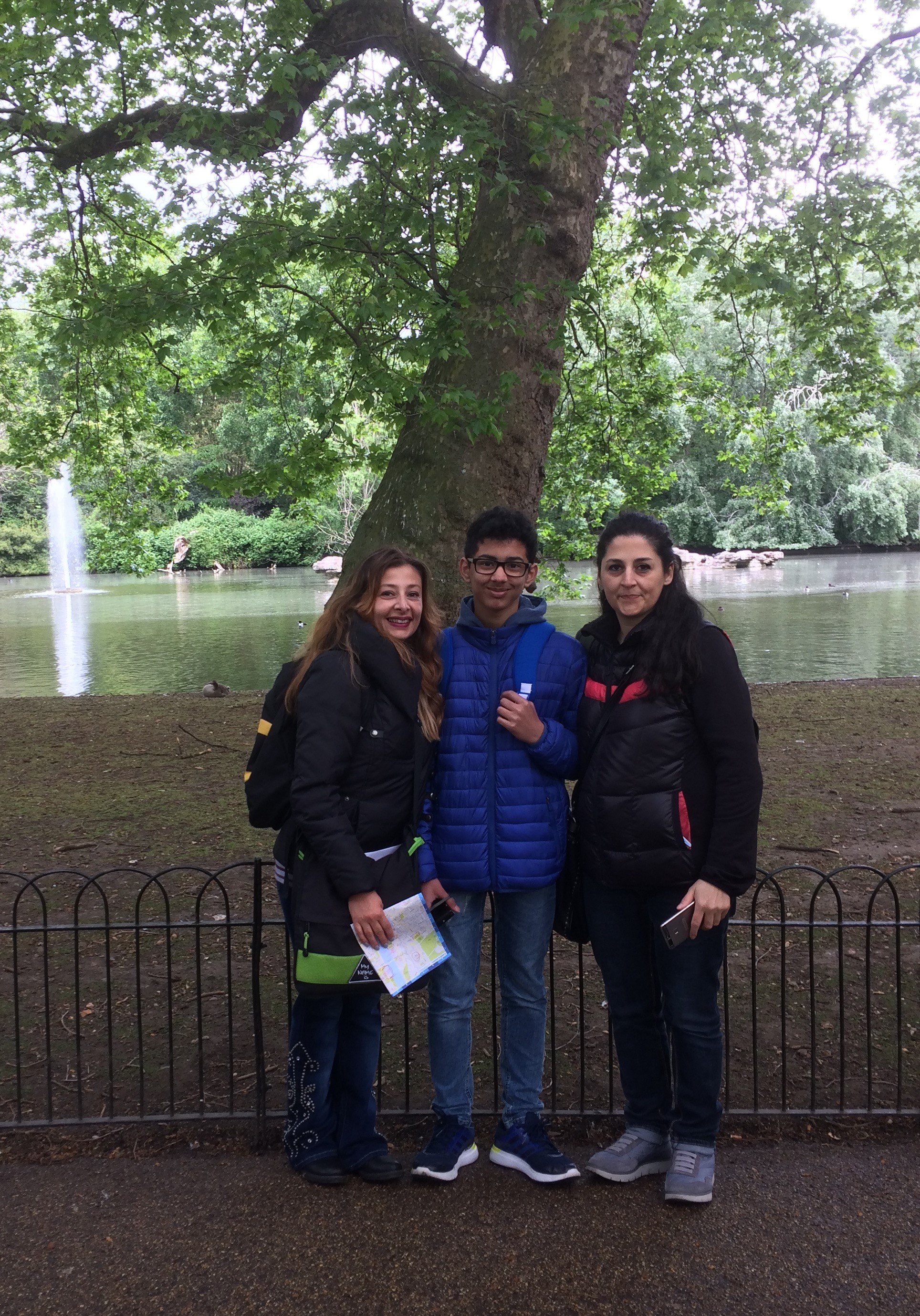 A SHORT WALK FROM ST. JAMES PARK TAKES YOU TO BUCKINGHAM PALACE
We wanted to see the notorious Changing of the Guard which happens on specific days and times our schedule didn't allow, however we DID SEE THE GUARDS marching in The Guards Museum's courtyard, on our way to the front of the Palace.
This has been the first element which got me the realistic perception that A MONARCHY still exists. Pretty fascinating, if you think how old this regime is.
As we approached the Royal Palace we were at first struck by the dominant Queen Victoria Memorial, a monument completed in 1924, built right in its huge courtyard.
We admired Buckingham Palace with its guards on horses for few minutes, wondering if the Queen was in or not; the Royal flag (called the Royal Standard) was not flown at that time, which means THE QUEEN WAS NOT IN RESIDENCE.
We then visited the adjacent QUEENS GALLERY, which exhibits works of art from the Royal Collection; the Gallery was built in place of the Royal Palace chapel, bombed down by Germans during World War II.
As we look for souvenirs, we enquired about all the different colors of the artifacts, Queen Elizabeth's II in particular. The lady who helped us thoroughly explained the details with great enthusiasm, proudly underlining the Monarch's longevity. She must seriously LOVE HER QUEEN!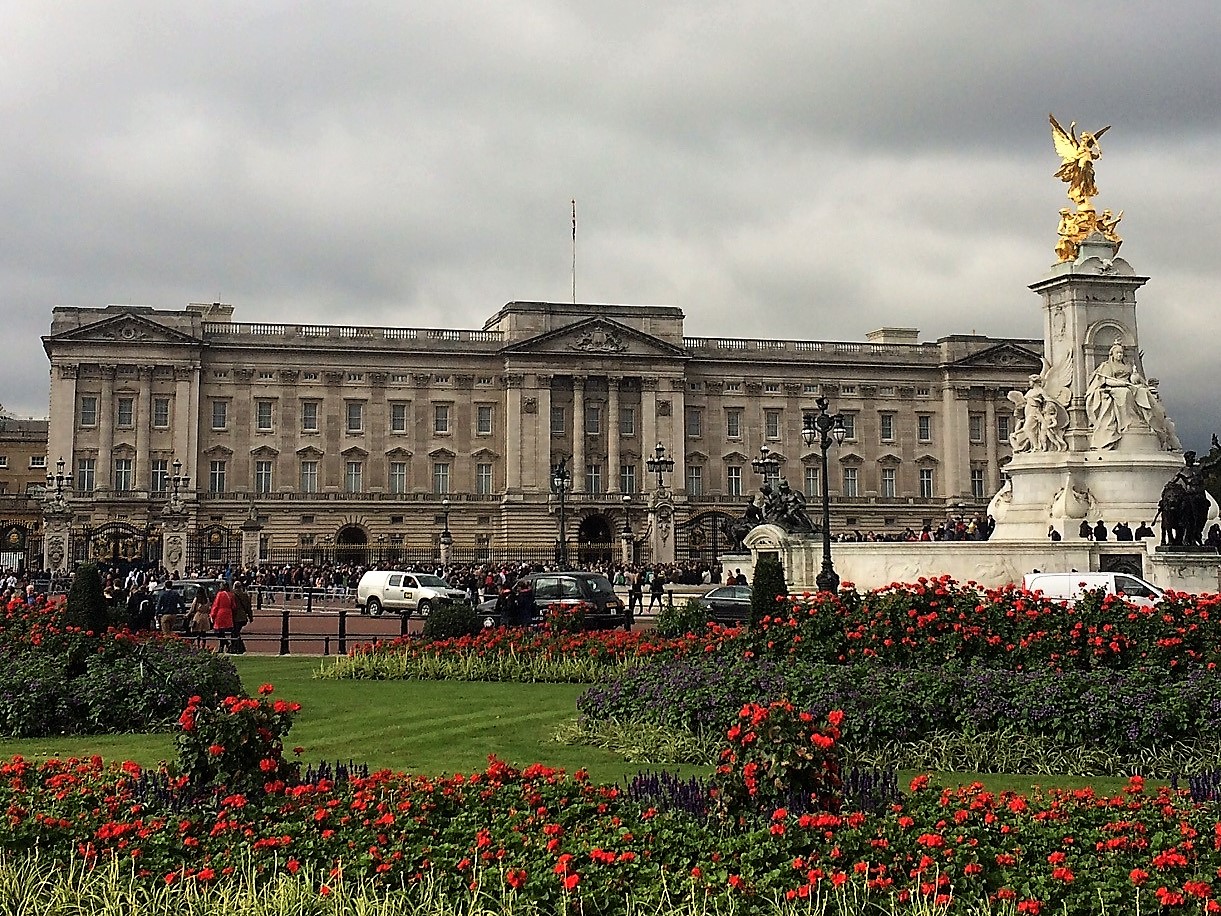 NEXT STOP HAMLEYS TOY STORE AND PICCADILLY CIRCUS
As a treat before the BIG (or bigger) treat, we satisfied my nephew's wish to visit Hamleys on Regent Street; a toy paradise for young and less young folks, about 20 minutes ride from the Queens Gallery.  (Ride the tube at Victoria Station, stop at Oxford Circus Station and walk approximately 5 minutes).
Founded over 200 years ago, Hamleys is at least a 7 floors store filled with over 50.000 lines of toys! And there is entertainment too!
In fact several employees show how (and involve you) to play with toys (on the street and in store) while you can admire others dressed as "stuffed animals" as you walk among bubbles and flying devices. YOU GET THE PICTURE…
Make sure not to have big plans after this visit especially if you go with kids…you won't be able to get out of it so easily! Luckily for us, all my nephew wanted was few Fidget Spinners and check out the -immense-Lego section ;).
Piccadilly Circus is basically a road conjunction characterized by a big rounded open space (circle) in the middle of it, which includes Regent Street, where Hamleys among bookstores, designer brands but also budget friendly stores are.
It is the perfect spot for shopping and entertainment enthusiasts, and a little like the New Yorkers Times Square, with its huge video display and big neon signs mounted on the corner building of the northern side.
We did not have time to engage in much shopping extravaganza as we rather wanted to enjoy a local meal in a reasonable amount of time before heading to the Studios.
I wanted to have and authentic Shepherd's Pie so we stopped in a classic English style Pub where we had a terrific but yet VERY FILLING experience.
Like a good Italian at this point I needed a serious authentic espresso, DEFINITELY not something I would dare try (nor they would possibly have) in a Pub.
We left hoping to find a cafe' along the way and there it was, a large fancy looking like Restaurant/bar/cafe' to please my need: THE RITZ.
In all reality The Ritz is a hotel, which at first I didn't realize. However the bar and dining area are available to anyone. As we walk in, we quickly realize by the décor and guests attire that THIS was gonna be A WASH…
My sister tried to dissuade me from staying but I thought "how bad can this be" so we approached the bar counter and sat down.
I quickly ordered 2 espresso but to my surprise the bartender hands me the menu, opened to the coffees page…I got the slightly frightening impression that he wanted to make sure I knew what I was about to face…£ 10 (about 12 euros) FOR 1 ESPRESSO!
Oh well… we live once…I can always say I treated myself to a coffee at the one the MOST ICONIC, HISTORIC, 5 STARS LUXURY HOTEL in London HA!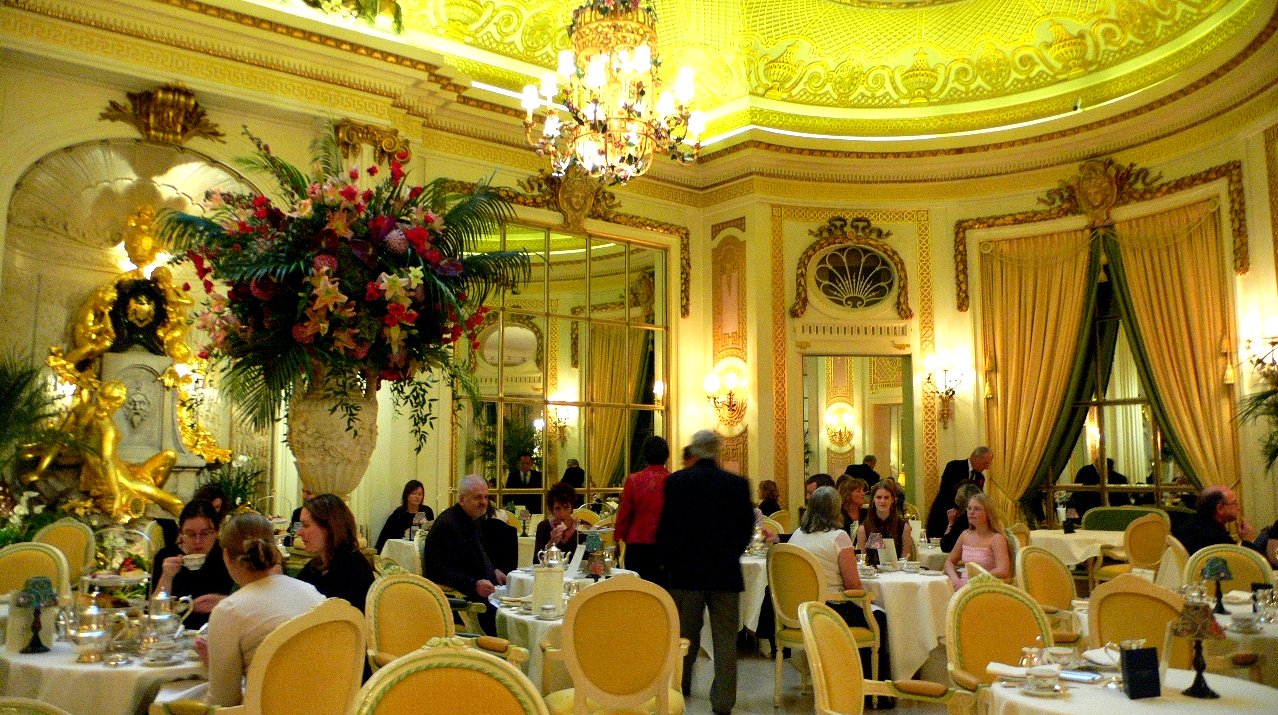 TIME TO GET TO THE WARNER BROS STUDIOS!
It was now time for us to make our way to the Studios so from The Ritz we walked 1 minute to the Green Park Underground Station and took a 5 minutes ride to Euston Underground Station; once here we walked about 4 minutes to the Euston Railway Station for a 20 minutes ride to Watford Junction Railway Station.
As you exit the station (about a minute away), you will see signs to the shuttle bus stop that takes you to Warner Bros.
The bus is CASH ONLY and it runs every 20 minutes; it has Harry Potter theme prints all over so you can't miss it! The ride is comfortable and it is 15 minutes long. See directions to the Studios here. 
I booked the Complete Studio Tour Package  which I highly recommend because it includes a digital/audio guide and a paperback Souvenir Guide; you will not get all the interesting insights on the making of the movie and creation of the sets, without the digital guide.
I must say first of all that I NEVER WATCHED ANY HARRY POTTER MOVIE nor I was ever drawn to it, not my cup of tea.
I SOLELY took the tour to make my nephew happy so I didn't expect much of it and wasn't quite incline to walk around for about 3/4 hours (that's approximately how long the tour takes) after having walked the whole morning already ? .
However! You will be pretty quickly amazed by the scenography of each of the multiple sets, which is absolutely magnificent in any single detail, big and small.
It really struck me to realize the amount of work behind the making of these movies, not to talk about the very enchanting special effects, some of which you can test yourself.
Absolutely a visit worth paying, whether you are into the genre or not.
THIS IS IT FOR DAY 1 GUYS! CLICK ON DAY 2.
DON'T MISS MY POSTS, SUBSCRIBE TO MY NEWSLETTER HERE! I promise no junk and no overloading your email addresses. Quality posts only.